DAY 1: Depart Adelaide at 8:00am for Wilpena Pound Resort via the crossroads of Australia – Port Pirie, Port Germein and Port Augusta. At Port Augusta we explore the Flinders Ranges and Outback in Wadlata Outback Centre's Tunnel of Time. During an optional tour you can discover our origins, the Aboriginal Dreaming, European settlement and much more.
After lunch we head towards Wilpena Pound via Quorn and Hawker and from Hawker we visit Kanyaka ruins.We will spend the night at Wilpena Pound Resort.
DAY 2: After breakfast we take a peaceful bushwalk to Wangarra Lookoutsand the Hill Homestead. After our walk we visit Sacred Canyon and then you can take an optional tour to Arkaroo Rock. Both are major Aboriginal Art sites.We then travel the geological trail through the Brachina Gorge. This gorge traces the geological history of the area for hundreds of million years.
After lunch we head to Iga Warta to spend some time learning about the Adnyamathanha culture and environment.
After our evening meal we will join our hosts at a traditional campfire listening to Adnyamathanha music and Yura Muda storytelling around a campfire, and enjoy a supper of traditionally cooked damper and urti jam. We stay overnight Iga Warta.
DAY 3: After breakfast we visit an ochre pit where we will learn about the colours, purpose and history of the ochre pits. We spend today at Iga Warta where we experience the rich Aboriginal culture and heritage of the Flinders Ranges and discover the hidden meaning of an ancient land learning their culture and environment.
After lunch we participate in a tour to the Malkii Painting site where you can immerse yourself in one of the oldest cultures in the world. Learn the interpretation of rock art through Adnyamathanha eyes.
We return to Iga Warta for our cultural cookout evening meal. Indulge in an evening meal and learn about traditional cooking methods and preparation of meat, damper and accompanying fruit and vegetables. We stay overnight Iga Warta.
DAY 4: Today we make our way to William Creek Hotel on the Oodnadatta Track. William Creek Hotel is the world's most isolated pub and when we stop here you can indulge in a well-deserved Australian beer. The most important claim to fame for William Creek is that it is the smallest town in Australia and is located on Anna Creek Station, the world's largest cattle station at 32,500 square kilometres.
We can walk along the old Ghan Railway Lineto the bridge at Breakfast Time Creek. This is a land of contrasts. There's red gibber plains stretching to the horizon, mound springs (we visit Bubbler Springs and Blanche Cup Springs) which create bush oases and wetlands, red gum lined creeks and vast areas of grey salt bush and spiky spinifex. Remnants of the old Ghan Railway are abundant along the Oodnadatta Track. We stay overnight William Creek Hotel.
DAY 5: Today we head to Coober Pedy in the heart of South Australia's vast outback; it is an opal wonderland. The town takes its name from the Aboriginal word Kupa (uninitiated man or white man) and Piti (hole).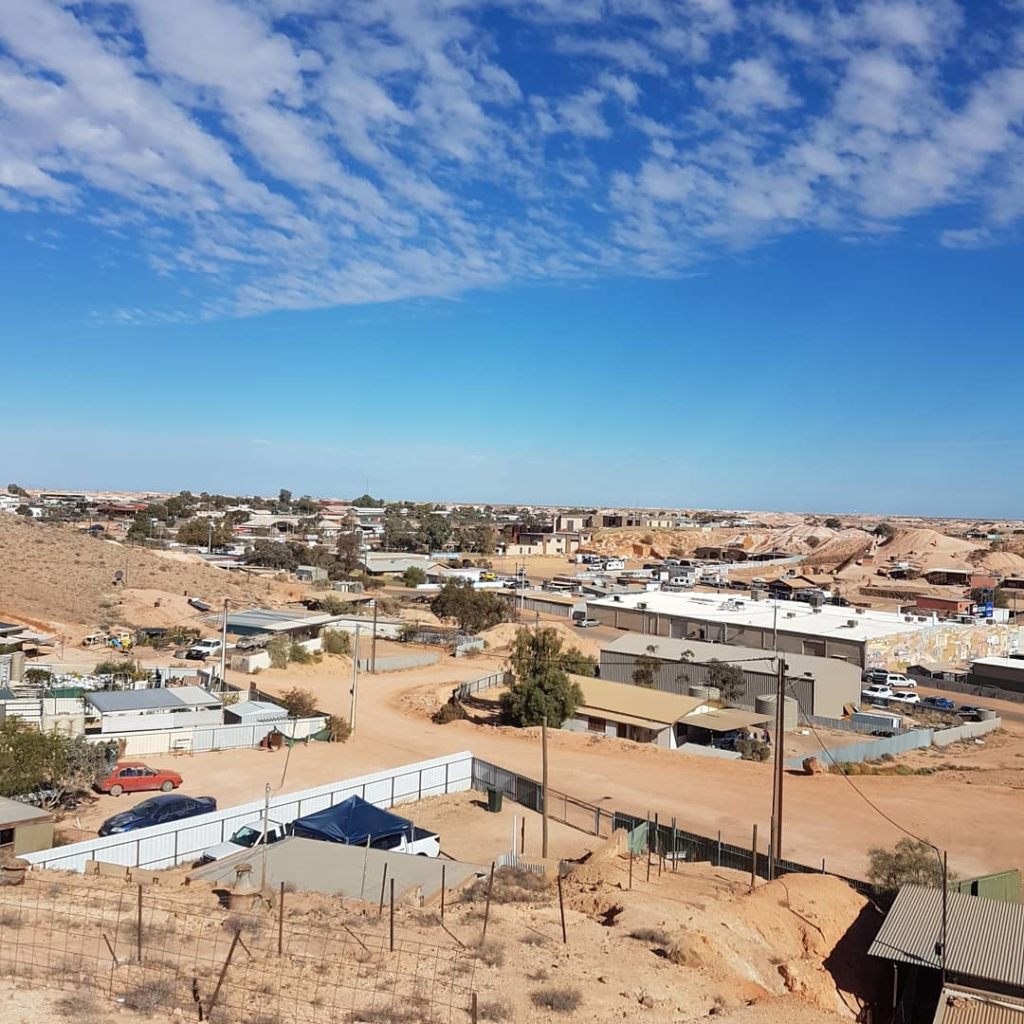 After lunch we visit the Breakaways Reserve and Moon Plain before we head back to Coober Pedy via the dingo fence (the world's longest fence, 5300 km long). Overnight we stay in underground accommodation at The Underground Motel.
DAY 6: Today we explore Coober Pedy in the heart of South Australia's vast outback, it is an opal wonderland. We spend some time visiting mines and interpretive centres which a great insight into the town and its mining operations. There are more than 30 opal shops in Coober Pedy if you would like to purchase some opal. We spend the night at The Eldo Hotel in Woomera.
DAY 7: After breakfast we head back to Adelaide via the Explorer Highway and Port Augusta, arriving approximately 6:00pm.
TOUR DETAILS
COST PER PERSON: $3895:00(including GST), minimum 2 passengers
TOUR INCLUDES: All accommodation is included as well as breakfasts evening meals on all days, and tours at Iga Warta.
NOT INCLUDED: Lunches, optional tours and mobile phone calls.
TOUR CONDITIONS: "JUST CRUISIN" reserve the right to alter or modify itinerary if prevailing weather, road conditions or adverse conditions re quire such change. Tour costs do not include additional accommodation, meals and incidental expenses incurred from flooding, natural delays, unavailable connections or other unforeseen circumstances. It is suggested travel insurance is purchased to cover additional accommodation, meals and incidental expenses resulting from flooding, natural delays, unavailable connections or other unforeseen expenses prior to departure. Due to the nature and remoteness of outback travel it is suggested anyone with health problems should seek advice from their doctor if necessary.
BOOKING CONDITIONS: A deposit of 20% is required to confirm your reservation. Balance is payable 21 days prior to departure.
CANCELLATIONS: Must be made 14 days prior to departure or full deposit is forfeited.
DON'T FORGET: Your camera, good walking shoes and hat. Please limit luggage to a small bag, and most of all don't forget your sense of adventure. It is suggested that appropriate sickness, accident and personal liability insurance be taken out.